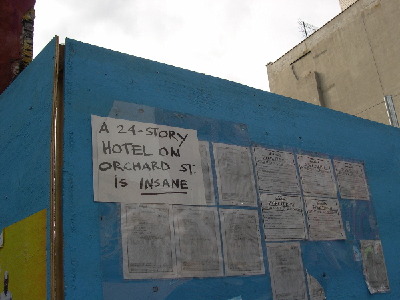 We, the members of L.O.C.O., the community of the Lower East Side, believe that our neighborhood has a rich cultural and ethnic heritage that is being systematically erased in the economic free-for-all created by landlords and developers. We believe that we need to get the people of this neighborhood together, to stand up for ourselves and demand action and accountability, in order to stem the tide of gentrification that is forcing members of this unique community to disperse.

We believe that it is possible for this neighborhood to improve - even to have economic prosperity - and benefit the people who live and work here, without having to sell our streets off to an increasingly upscale population that does not respect our history, disrespects residents and destroys our neighborhood's unique monuments and achievements, as well as our architectural landmarks.

We believe that the the Lower East Side is the most diverse and culturally rich place in the United States, possibly the world - and that this community, its residents and its long history must be protected.

We are rising up:

- TO STOP HIGH-RISE AND OTHER OVER-DEVELOPMENTS ON THE LOWER EAST SIDE, AND WORK FOR THE ZONING CHANGES THAT WILL PRESERVE OUR COMMUNITY SCALE AND AFFORDABLE HOUSING STOCK.
- TO TELL OUR LOCAL POLITICAL LEADERS THAT OUR QUALITY OF LIFE IS BEING ERODED, WE ARE CONTINUALLY BEING HARRASSED FROM THE PLACE WE CALL HOME, AND WE WILL HOLD THEM ACCOUNTABLE FOR THEIR INACTION.
- TO TELL THE LANDLORDS: WE DON'T NEED MORE UPSCALE BARS AND EXPENSIVE RESTAURANTS. WE DO WANT LOCAL MOM AND POP BUSINESSES PROTECTED, AND LOCAL CULTURE TO REMAIN.

L.O.C.O. seeks to take these issues on, to help bring people together and keep them informed, so as to affect city policy and send a message to developers and local politicians: We are still here, we are reclaiming our streets, and going to keep our community intact and vibrant.